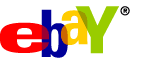 EbayŽ

Checkout and and and eCommerce Integration
There are many applications that integrates your Ebay listing directly into your online store and website. Most application just requires you to enter your Ebay User ID, Authorize.net Trans ID and that is all, you get an instant website and all your auction listing appearing on your online store or website. Preview a 30 seconds Ebay Setup

using a free OSCommerce application. Preview a 30 seconds authorize.net setup

.

Customers shop and pay on your website and they get to also preview your Ebay listings. This is an easy, quick way to start accepting credit cards online. A simple integration into your shopping cart allows your customers to pay securely and easily.
Now accepting credit card payments directly from eBay checkout to your merchant credit card account
Ebay announcement towards a unified checkout process and phasing out third-party checkout systems by Jun 2011 has instead selected Authorize.net as one of the alternate gateways. Buyers will only be able to make purchases using eBay Checkout, and not third-party checkout systems such as those from Auctiva, ChannelAdvisor or Vendio. This change will simplify checkout on eBay, give all users the same checkout experience and reassure shoppers their purchases were processed properly, according to eBay. Using Authorize.net is therefore just 5 clicks to setup with our merchant account.
You can enter your merchant account information and authorization token directly
into My eBay by following these steps:

Go to My eBay, when you receive your username and trans_key
Click on the Account tab.
Choose Site Preferences.
Under the Selling Preferences section, click on the "Show" link next to "Payment from buyers" to expand the section.
Click the "Edit" link (you may be required to sign in again) then follow the steps under "Merchant Credit Card Preferences"
Submit your changes.
Authorize.Net also offers several methods for connecting Web sites and point-of-sale (POS) systems to the payment gateway for submitting transactions, automatically and manually. The easy manual way to enter an order is using the virtual terminal. Preview a Virtual Terminal Demo

. The virtual terminal allows you enter non-swipe transactions at trade shows or flee markets or after an event.
Benefits to Ebay Sellers:
Drive buyers to your business website.
Cross-sell, customers shop on your website and gets to preview your Ebay listings and auctions.
Integrates with Authorize.net for a professional merchant account with VISA/MC/Amex/DC.
Supported by the Ebay communities and contributors.